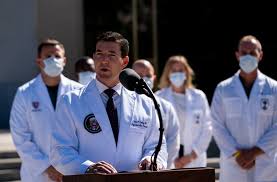 President Trump was recently treated with a mixture of medicinal and natural remedies conjunctly for his COVID-19 contagion. It is worth noting the choices of the natural remedies (Vitamin D, Zinc, and Melatonin) he was prescribed to by the top doctors in the land. More importantly these supplements are easily available to you and me for us to consider in treating or strengthening our immune system in the midst of this pandemic.
President Trump was prescribed Vitamin D and Zinc, by his doctors, which are used to activate NK T cells (Natural killer T cells are a heterogeneous group of T cells that share properties of both T cells and natural killer cells) and enable them to transcribe DNA inside cells. These products are available to everyone in the world in many foods. Pumpkin seeds and cayenne provide Zinc. Vitamin D3 is available from fish, seaweed and mushrooms. Exceptionally, Vitamin D3 is also available from the sun for free.
Vitamin D and Zinc are also available in supplement form (tablets or capsules) which may be preferred by many. For more details on Vitamin D and how to choose it, please refer to my previous blogs on Vitamin D. In short, be sure to choose Vitamin D3 instead of D2.
The trace mineral Zinc is involved in hundreds of important functions in the body, including immune support, sugar metabolism, DNA formation, protein metabolism and energy production. It is also needed for the growth and development of bones. Click here to learn more and purchase Zinc supplement in tablet or in lozenge forms.
Melatonin, a hormone produced by the pineal gland, promotes natural sleep rhythm, influences the body's biological clock, supports the nervous system and has anti-aging properties. Melatonin levels drop as we age, which may explain why sleep patterns change. As a supplement, Melatonin Extra provides 3mg of pure melatonin combined with herbs and natural vitamin E, a powerful antioxidant, for optimal benefits. Melatonin was prescribed to POTUS perhaps for all of the above reasons and possibly to counteract the side effects of steroid he was given.
The President was given Dexamethasone (a steroid) to (likely) fight off the inflammation. President Trump also received a trial drug being tested in England, not available to us common people, that provides monoclonal antibodies specific to COVID2. Remdesivir was also given to him, a pricey drug that has only completed ordinal studies. Ordinal Studies are studies in patients are asked how they feel after treatments.
That is all he was reported to have taken for the virus. Other complementary care includes an HCL inhibitor, a baby aspirin, and oxygen.
You are welcome to contact us about what are our top natural remedies we recommend for the upcoming flu season (along with the COVID-19).