dōTERRA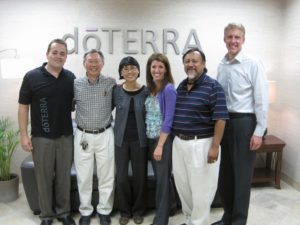 "dōTERRA®," a Latin derivative meaning "Gift of the Earth." The first offering of dōTERRA essential oils—25 single oils and 10 oil blends—introduced on April 25, 2008, to the acclaim of essential oil experts and product enthusiasts who immediately recognized the superior quality of dōTERRA therapeutic-grade essential oils.
In addition to the ongoing development of new essential oils and proprietary essential oil blends, dōTERRA product offerings include nutritional, spa, and healthy living products based on essential oil technologies and a comprehensive wellness philosophy.
Their quality has been the subject of study by many scientific paper publications. They are also in various well-known institutions such as Vanderbilt Medical Center and Las Vegas The Palazzo Hotel to name a few.
In the meantime check out these two videos: