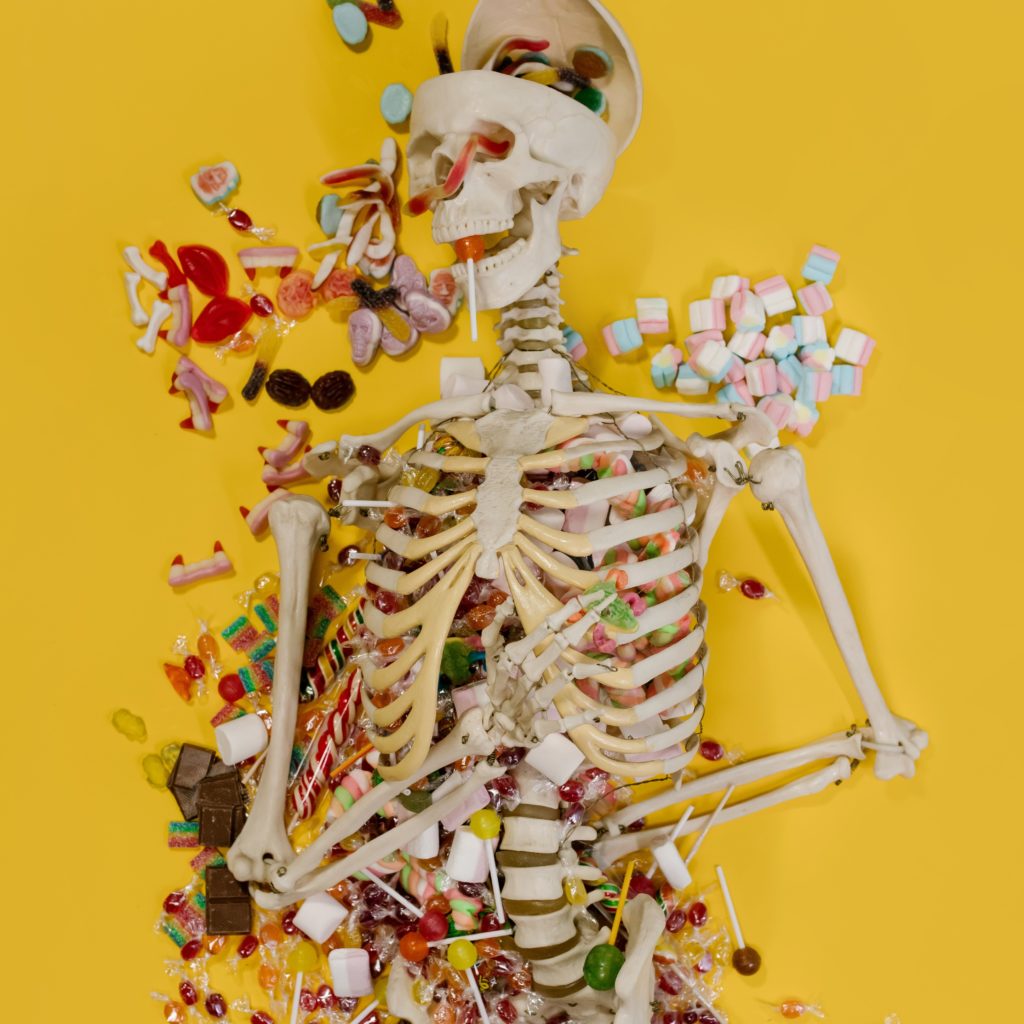 Every Halloween millions of American children (and adults) dress up in costumes and play the "trick or treat" game to earn their sugary treat. While this is all great family fun and game, there is actually a less-than-fun trick being played in the dispensed sugary items.
When children are presented with sweet treats their faces usually light up. It even appears to calm children down, at least temporarily. And who doesn't want to see that precious smile on our children faces.
Sugar stimulates the reward centers in the brain, causing a release of dopamine. Dopamine neurons motivate you and reward you for pursuing things essential to life. The problem lies in the fact that sweets offered in Halloween are typically of empty calories loaded with high fructose corn syrup (or other artificial sweeteners) plus coloring agents and preservatives. However, the sweet foods in nature would contain additional nutrients, like vitamins and minerals, which provide a sense of satisfaction.
Refined sugar doesn't have the nutrients the body really needs, so after giving an initial surge of pleasure and a temporary boost in energy, due to the release of dopamine, there is a crash a short time later. The pleasure and energy surge gives way to irritability, anxiety, fatigue and even mild depression. The child placated with sweets often becomes hyperactive and irritable within less than an hour as I saw too many times. They are anything but calm and happy. The same thing happens to adults, but it is harder to see because adults are better at controlling their emotional expression.
Sugar and Addiction Connection
The reward center of the brain is directly stimulated by drugs like nicotine, cocaine and amphetamines. So someone who uses these substances also gets a high followed by a let-down, and they think the answer is another fix of the drug. Sugar does the same thing. When it is consumed regularly this dopamine response that feels so pleasurable becomes blunted, and people feel they need more and more to get the same good feeling.
But, so not to spoil a festive event for the children, a tight control of the sugar consumptions in the days or weeks that follow should be seriously considered by parents.
BTW – If you don't believe sugar is addictive, try this simple test, don't eat anything with refined sugar in it for two weeks. Even better, if you have children, don't let them have any sugar for just a few days. In either case, you'll rapidly see all the classic symptoms of withdrawal from sugar dependence.
The Deceit in Refined Sugar
Not all sugars are created equal. There is nothing wrong with eating naturally sweet foods. It is sugar in its bare chemical form that's both addictive and damaging to the body.
Your taste buds like sweet things because your brain, nerves, and muscles use sugar for energy. Specifically, they use a sugar called glucose. Sucrose and high fructose corn syrup are composed of two sugars, glucose, and fructose. Plants store sucrose as starch, so all starchy foods, including grains and potatoes, are sources of sugar.
Nature, however, does not provide sugar in isolation. In natural foods, such as fruits, sugar is found in the cellular structure of the plants, along with numerous other substances including fiber, vitamins, minerals, proteins, fats and various phytochemicals. These additional vitamins and minerals are required to process this sugar into usable energy.
That's how sugar deceives us. It makes us think we're getting something we need, but we really aren't. If we wish to have good health we need to learn to satisfy our sweet tooth with real foods (such as fruits and vegetables), not artificial ones.
So, give yourself a real treat this time of the year and get started today in kicking the sugar habit and don't let yourself and children get tricked this Halloween by refined sugar.
Click this link to read more about impact of sugar on our health.