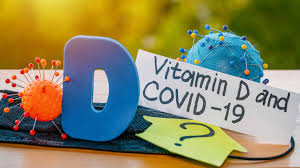 Your medical doctor may have told you about the multiple roles that vitamin D plays in regulating our body's immune system. There is now more scientific community support about the vitamin D efficacy in treating COVID-19 patients.
I think it is worthwhile for us to review vitamin D again as we prepare for possibly one of the worse Fall and Winter flu season this year.
First, let me share a recent scientific publication regarding vitamin D and its use during the COVID-19 Pandemic.
The Study – Calcifediol Treatment in Hospitalized COVID-19 patients
This study came from Spain which has seen its share of COVID-19 cases. This clinical study report has just been pre-approved for publication in the October, 2020 issue of the Journal of Steroid Biochemistry and Molecular Biology. The work was conducted at the Reina Sofia University Hospital, Cordoba, Spain. The link to this study is provided below. My summary is given here.
The study involved 76 COVID-19 patients who were all treated with what seems to be a standard treatment protocol in that hospital. Two groups were divided up between those who received the vitamin D treatment and those who did not. The findings showed that in the group that was given the vitamin D, 2% required treatment in the intensive care unit (ICU). But in the untreated group (no vitamin D given), 50% required transfer to the ICU and 2 of these patients died. There were no deaths in patients who received vitamin D.
The highlights:
The vitamin D endocrine system may have a variety of actions on cells and tissues involved in COVID-19 progression.
Administration of calcifediol or 25-hydroxyvitamin D (bio-available form of vitamin D in our blood) to hospitalized COVID-19 patients significantly reduced their need for ICU admission.
Calcifediol seems to to be able to reduce severity of the disease.
The study concludes and I quote, "… our pilot study demonstrated that administration of calcifediol (serum level of Vitamin D) may improve the clinical outcome of subjects requiring hospitalization for COVID-19." The authors recommend a broader and deeper study on Vitamin D in the future (currently underway).
The concentration of the vitamin D was administered orally at 0.532mg on the first day of hospitalization. These same patients continued the vitamin D intake on day 3 and 7 and then weekly until their discharge (at a constant 0.25mg each time).
Personal Takeaway
Clearly the vitamin D played a statistical significant role in helping patients in their recovery from COVID-19. This result collaborates further our understanding of the role vitamin D plays on human immune system. Taking a moderate amount of vitamin D as a nutritional supplement throughout any flu season may be a prudent preventive measure. It may likely be especially true for the Coronavirus plagued season.
I would recommend to consider adding the following supplements for improving our overall immune function:
All of which are not only immune champions but also good for our respiratory function among many other documented health benefits. Feel free to contact us if you have a question on any of the above.
For more discussion on Vitamin D (D2 v. D3), I will have a follow-up blog coming up real soon! Stay tuned.
Press here to read the just released D2 v. D3 blog.
Source:
"Effect of calcifediol treatment and best available therapy verus best available therapy on intensive care unit admission and mortality among patients hospitalized for COVID-19: A pilot randomized clinical study", Journal of Steroid Biochemistry and Molecular Biology, Volume 203, October, 2020, 105751
https://www.sciencedirect.com/science/article/pii/S0960076020302764?via%3Dihub